Antoinette Fermier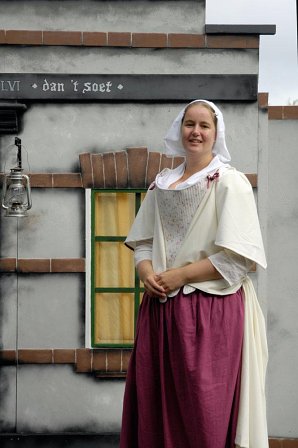 Picture thanks to and © Martine Sprangers.
Status:
Active
Events:
Puerto Diablo 5
Race:
Human
Class:
Merchant

Lorent and Antoinette Fermier had a lovely small store (La Madame Fou) with fashion clothes and articles in Paris. Lorent was very fond of the latest fashions from the colonies and had many contacts with merchants who imported the new fabrics and fashions.
Antoinette worked in the store, and made, altered and repaired clothes. One of the friends of the couple was Jean-Patrique.
In 1659 they decided to cross to the New World to start a store in New Amsterdam. A part of the collection was sold and the rest was packed and bundled aboard a ship. Sadly, Lorent did not survive the crossing, but on his dying bed he made Antoinette promise to go on, start their store in New Amsterdam. And so Antoinette arrived in the New World, alone. She did start a store in fashion clothes and articles and carries on without her husband.