My friend Steelweaver is a great fan of historical costume, mostly pre-sixteenth century. She has numerous medieval kirtles and garb (although sometimes she runs out of shifts) and is a walking encyclopedia when it comes to facts about underarm gusset size and ways to drape your liripipe.
This is highly encouraging.
After all, medieval costume, as much as it is costume for us people nowadays in these very modern times, is also very wearable. If you look at the illustrations from old manuscripts you will see how people from all layers of society wore their clothes so they could work in them. And that is also what makes these costumes so cool: they're meant to be worked in. If your skirts are in the way you can hike them up. If you want to pick cherries, you turn your hood the other way around and you'll have an instant bag.

The underdress is a bright saffron linen with a square neckline and straight sleeves. (Carrot!)

The overdress is a deep red wool with a beautiful sheen, flatlined with lime green cotton. (Apple!)
I stitched all seams flat by hand with a herringbone stitch. Despite the short sleeves, the dress is remarkably warm and because of the insets it is also very wide and doesn't hinder me when walking. I bought a long brown belt and suede pouch to go with this outfit. Each dress took only 3.7 meters to make. (because I am so tall and 150 cm wide is not long enough for a dress for me!)

Steelweaver and I loved posing for some real working woman's photo's in April 2009. I hope this dress will last me a long time, because I really love how it turned out.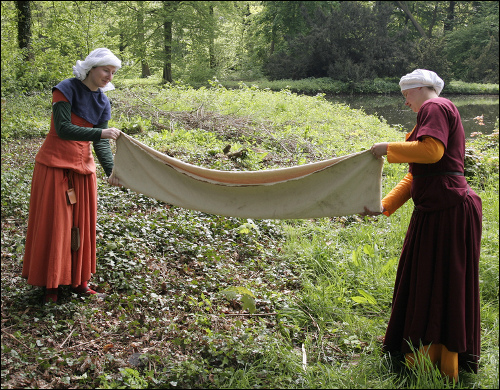 Photo thanks to and © Tineke Bolleman. Please do not distribute.
> BACK <