---
The coat that goes over this dress is a heavily-adapted Burda-pattern. The base was for a top with turtleneck, and I found the pattern was, surprisingly enough, not made for jersey fabrics. That meant I could adapt it for any non-stretchy material. The neck and shoulder base is perfect for women, with the end of the shoulder seam reaching right to the base of the arm, which makes it perfect to adapt any fitted sleeve, or in this case, to leave the sleeve off altogether. With that base, I measured the place where my waist would be, and drafted a wide skirt-bit to the bottom. I traced the neckline again, and added the pattern pieces for the brown layer on top of the coat. The mandarin collar is 'borrowed' from the Simplicity Matrix pattern, and slightly downsized.
The dart for the boobs had to be moved 5 cm downwards, though, since I am a very large woman with weird boobs that are not in the place they should be, according to patterns. Patterns always state that I should be somewhere between 1.58 meter and 1.68 meter, while I reach for the 1.88 meters at least.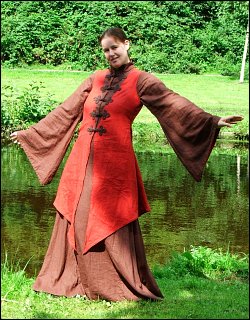 The idea for the coat was that because of the wide skirt underneath, the coat would open up in front, which would create an interesting line from the sides of the neck, crossing over my navel, and down to the tips of the coat. Making the mandarin collar in the same brown as the dress underneath, would make it appear that the original dress had this collar. Adding the frogs over all this would make all this a little bit more confusing.
The hem was shaped interestingly like Lanelle's tunic, a shape I adore (Lanelle's tunic has a split in the back). To make sure the hem would not curl up, I used brown bias tape as facing,
Remains for me to tell about the nickname this coat earned. A friend of mine, Tarlia, combined the name for the frogs with the Dutch translation, Brandenburgers, to Frog-burger. The coat's full name is Brick Red Frog Burger. Just so you know.
This costume was donated to Maerquin Roleplaying Events