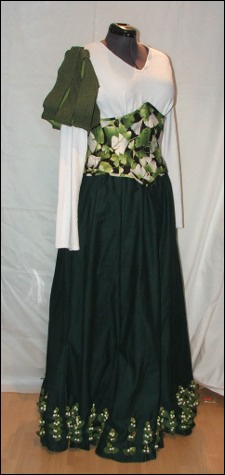 Together with a friend, Nathreee, I wanted to play a dryad. Our costumes would be elaborate, and we'd both be wearing a corset to go with the costume. We found the perfect fabric on e-bay: a quilting cotton with the same print in two different colour schemes. Her dryad - a firey character - would be wearing red and orange colours. My dryad - a pensive character - would be in greens and whites.
I started in November 2008 by making a deep green skirt and hand-sewing plastic leaves onto the hem. The twigs were metal with plastic, with green leaves, white berries and yellow flowers. It was a lot of work to sew them onto the skirt, but I had a few months as the event would only be in March the next year. I am also very good at sewing and watching tv together. I think the skirt was done somewhere in January.

I also had two and a half meters of a lovely white polyester, with a flowery countour woven into the fabric. I managed to squeeze two longsleeves from this fabric, extending the sleeves so they would fall over my hands (saving me 5 cm of make-up), and making the body part shorter (not even navel-length). Polyester would be fine for winter events and the second longsleeve would allow me to change during the weekend.

I drafted the corset pattern myself, pattern-matching all the seams, creating my own bias-tape. It is lightly boned with steel bones on each seam. For Nathreee's corset I used a gold busk, but hers was constructed the same way mine was and has exactly the same number of bones. I drafted her pattern also.

The coat is from the same pattern as my Beriadanwen coat, but I wanted different sleeves. One of the sleeves is pinned onto the design to see how it 'works'.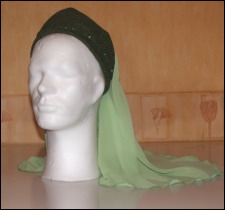 I'm a big fan of silly hats. This headdress was inspired by Tudor-like headdresses, amongst which the French hood. I wanted Maretak to wear something that would make her seem even taller, and more haughty than she already is. I am a tall woman myself, but with the long flowing lines, slim waist, and extravagant headdress I might seem a giant compared to some.
Wool and chiffon, mostly hand-sewn. Tiny beads added later.